Ryukyu Golden Kings Arena Game Day Rules
UPDATED: 2023/3/12
Please read and abide by the following rules put in place by B.LEAUGE and the Ryukyu Golden Kings in order to ensure a comfortable and safe environment for all customers attending home games.

<ALLOWED>
・Speaking at a conversational volume to the person next to you while wearing a mask
・Temporarily cheering/shouting during free throws while wearing a mask
・Temporarily cheering/shouting during parts of the game while wearing a mask
・Temperature checks will not be conducted at the entrance
・Loud cheering is possible
・Repeatedly cheering/shouting during offense and defense
 EX: Repeatedly cheering "GO GO KINGS!" or "DEFENSE"

<PROHIBITED >
・Watching the game without wearing a mask
・Speaking, cheering, booing, etc without wearing a mask
・Whistling during any part of the game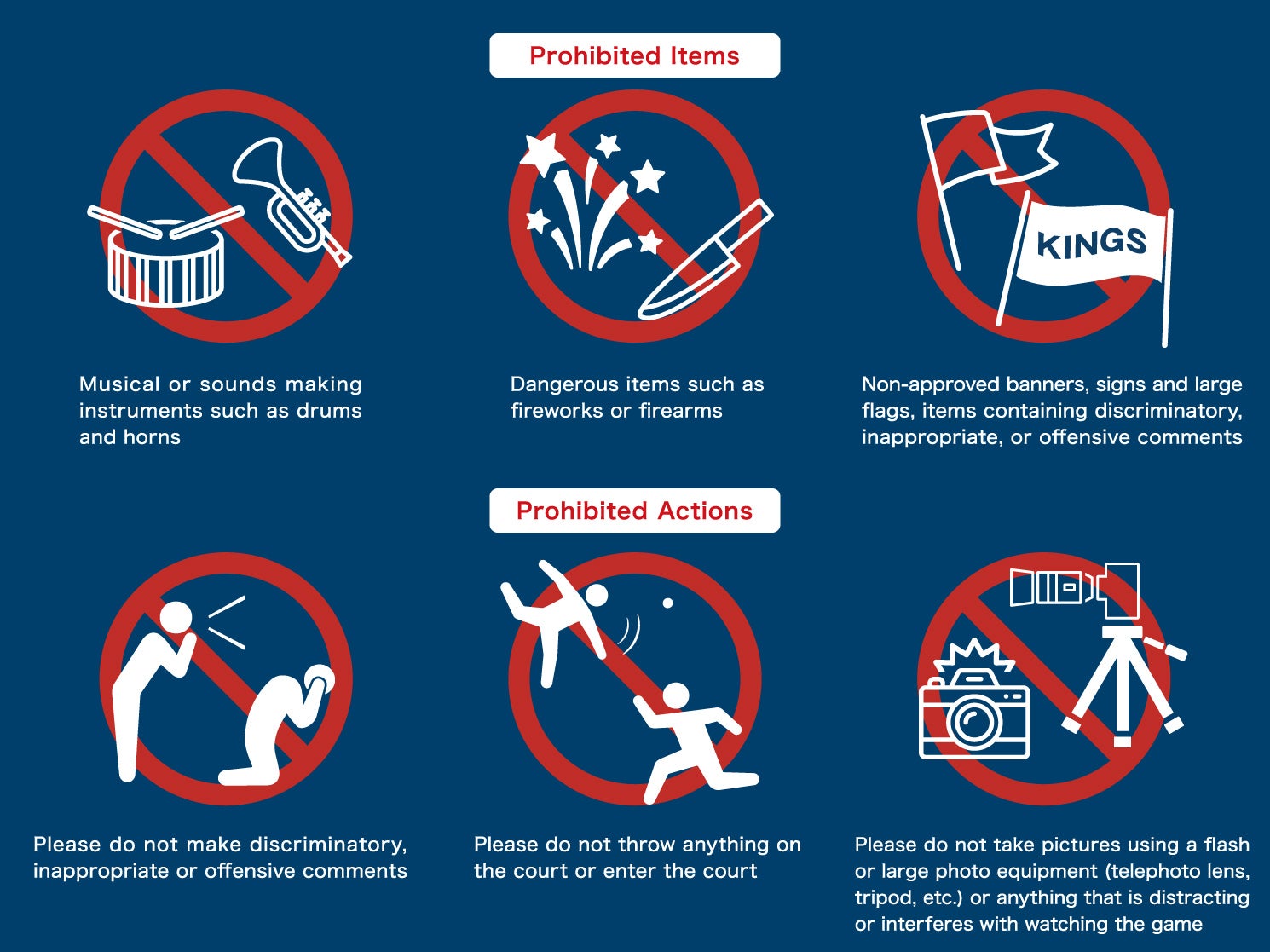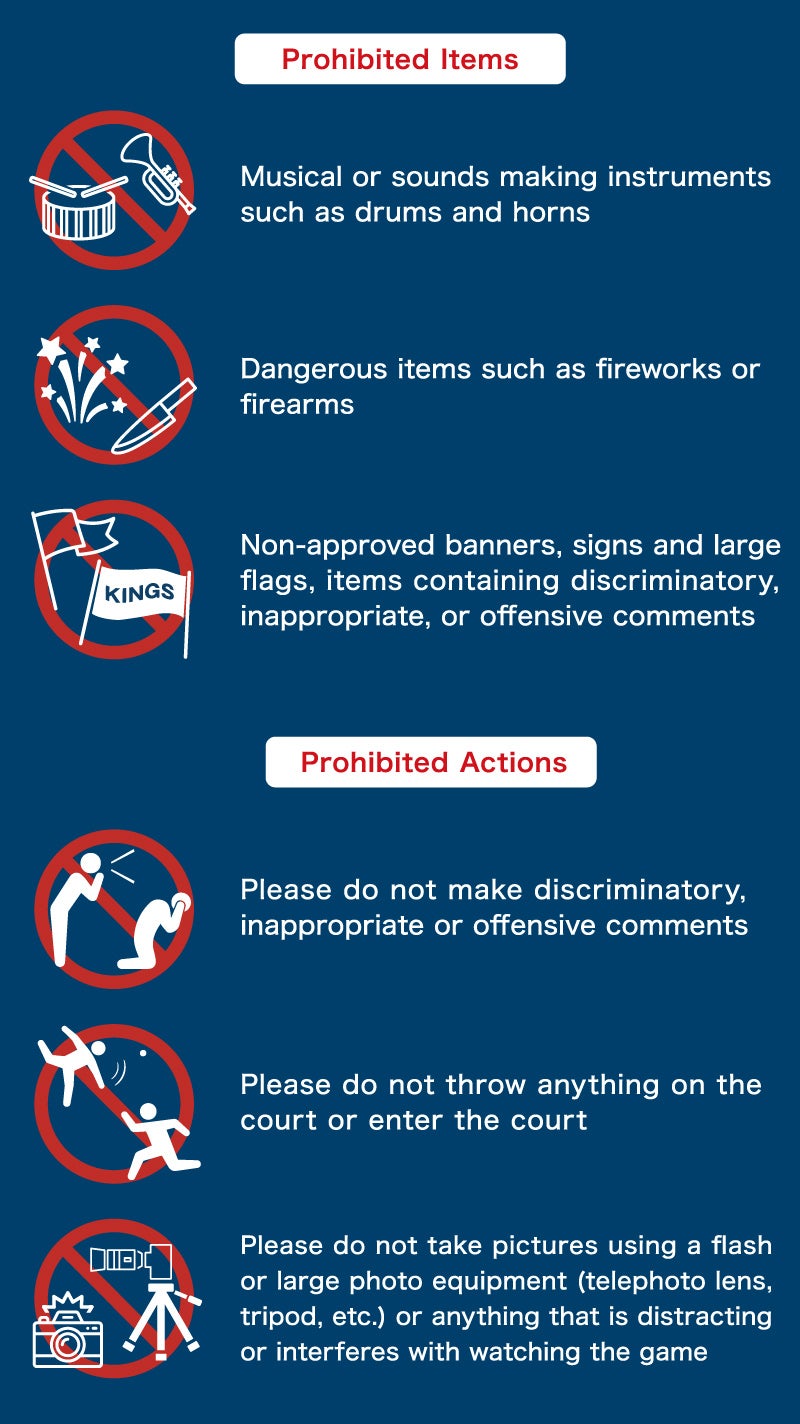 ▽Click Here for B.LEAGUE Rules
https://www.bleague.jp/watching/
■Wearing a Mask

All venue staff are required to wear a mask or face shield. * Non-woven masks are recommended You must wear a mask at the venue regardless of whether you have been vaccinated or not. If you do not cooperate you will be refused admission. *Please cover mouth and nose when wearing a mask

■Avoiding Congested Areas

Be aware of social distancing when waiting in lines, etc.
Limit the number of people in crowded areas.

■Electronic Ticket Admission

All admissions tickets will be delivered electronically to reduce physical contact at the time of arena admission.

■Disinfection Sanitizer

Please use the disinfecting hand sanitizer provided at each arena entrance. Please let the arena staff know if you have any allergies.

■Venue Ventilation

Depends on air conditioning equipment, etc. Enhanced ventilation with outside air.

■Cheering at Games

Please refrain from moving seats or giving high fives.
Please refrain from using whistling, shaking items, etc.

■Eating and Drinking

Bringing food and drinks into the venue is prohibited. (Please consult with the staff regarding necessary items for infants and health reasons)
After taking appropriate preventive measures upon admission, we will sell food and drinks inside the venue.
*Please refrain from talking in your seat when eating or drinking.

■Refrain from Close Contact with Athletes

In order to protect the health and safety of our customers and athletes, please refrain from coming in close contact with the athletes.

■Cashless Payment

In order to reduce close contact, all goods and food and drink sales are cashless.
Requests to Arena Visitors
■Admission Restrictions
Please refrain from visiting the venue if any of the following categories apply to you:
If you have traveled abroad within two weeks before the scheduled arena visit date.
If you are currently infected with coronavirus, please do not come to the venue until your medical institution or health center has cleared you and your medical treatment is complete.
If your health care center considers you to be a close contact with someone who is or has recently been infected with coronavirus, please do not come to the venue within two weeks after first being considered a close contact.
Please take caution if you are considered someone of "high risk" of contracting COVID-19. Persons of "high risk" are, but not limited to, the following categories: those who have underlying diseases such as diabetes, heart complications, respiratory diseases (COPD, etc.), those who are undergoing dialysis, or those using immunosuppressive agents, anticancer agents, etc. In order to protect the health of our customers, please refrain from visiting the venue if you are concerned about your health condition or the high risk of infection.
If you have any of the following symptoms prior to visiting the venue:

1. A body temperature of 37.5 °C or higher
2. Have cold-like symptoms such as coughing, headaches, ddizziness, or a sore throat.
3. Have poor physical conditions such as loss of taste, smell, or appetite.
If any of the above symptoms are discovered at the time of entry, you will be refused admission. In addition, you may be asked to leave the venue if any actions threaten the health and safety of the other customers, athletes and staff. In this case, the cost of tickets or other expenses such as transportation will not be reimbursed.
■Cheering at Games
Please refrain from whistling, shaking items, etc.
Please refrain from high-fiving, shaking hands, and close physical contact with other visitors.
Please do not move seats.
Please wear a mask, wash and disinfect your hands.
■After the Game
We will provide appropriate exits to avoid congestion when leaving the venue.
Please do not interact with the players or wait for them to exit. Please refrain from delivering items to players.
Please keep your ticket for at least 14 days after watching the game.
In the case where a PCR test is positive, and the arena visit date falls within 48 hours or more before the onset of symptoms, or the arena visit date falls within the time of a close contact case, please contact a Health Center and the Ryukyu Golden Kings (050-5444-1491). In this situation, the seat number of the person of concern may be announced on the Ryukyu Golden Kings official website.
To ensure safe and smooth transactions, all forms of payment within the Arena Shop and arena food and drink concessions are cashless and we would like to ask all visitors to please prepare the accepted forms of payment in advance.
*Cash payments are not accepted
Once you enter the venue, you will not be able to re-enter until after the match is over. You can shop at the arena shop before or after the match.
Okinawa Arena's parking lot is not open to the public on the day of home games. Customers with a parking pass can park in their designated areas. If you do not have a parking pass you may use the temporary parking lot in downtown Okinawa and the free shuttle bus. The free shuttle bus runs two hours before the start of the match to one hour after the end of the match.
▽Free shuttle bus Click here for details
https://goldenkings.jp/access/
▽Frequently Asked Questions
https://goldenkings.jp/faq/